Welcome to the Australia Japan Society
Far North Queensland
About the Society
The Australia Japan Society of FNQ Inc., located in Cairns Far North Queensland, is a non political, non profit organisation and has the following objectives:
to offer interesting and informative Japan related activities to our members and general public of Cairns.
to advise, and be a point of contact for similar Japan based groups or individuals interested in Cairns, and vice versa to advise, and be a point of contact for local members who wish to travel to Japan.
To promote educational exchange between Australia and Japan.
To encourage interest in Australia by Japanese people.
To provide opportunities and facilities for contact between Australians and Japanese to exist.
To cooperate with other organisations in Australia and Japan with similar objectives.
Find us on Facebook
Latest News
Mark Bulley
3 November 2019 Enjoy free Japanese films! The selection includes an animated film that everyone can enjoy, a meditative drama on the art of Japanese tea ceremony and a heart-warming slice-of-life reflection on family relationships. MIRAI |12:00pm DAD'S LUNCH BOX [...]
Mark Bulley
To celebrate the 50th Anniversary milestone, the Mayor of Minami Town (formerly Hiwasa) and a delegation visited Cairns and took part in the Cairns Festival, held from 23rd August-1st Sept 2019. The Mayor brought with him approx. 30 delegates from [...]
Mark Bulley
2019-20 Student Scholarships for Japan's Sister Cities to Cairns.Congratulations toNicholas Wilhelm von Dietze from St Andrew's Catholic College who goes to Oyama City in Tochigi PrefectureZachary Luke Downey from St Augustine's College who goes to Minami Town Tokushima [...]
The AJS-FNQ draws its membership from a wide cross section of the community, covering individuals and families, students, small business and large corporations.
The AJS offers a range of affordable membership categories. Benefits of membership include:
Communication
A quarterly newsletter is distributed to members, business houses and schools, providing both information and advertising.
The Society's website contains up-to-date information on both local and Japan-based happenings, and access to the latest Japanese news.
Functions
Business luncheons are held regularly with a diverse range of high-calibre speakers from different backgrounds and industry sectors.
The annual golf tournament and dinner, held during Japan Week( June) each year, have become a notable feature on Cairns' annual social calendar. Other social functions are held on a monthly basis, including informal drinks evenings, family picnics and movie nights.
Networking
The wide range of businesses involved in the AJS offers the opportunity to expand contacts -both locally and throughout Australia and Japan.
Advice and Assistance
Assistance is offered to companies and individuals seeking information on Japan and/ or Japanese business and culture.
Referrals can be made for interpreting and translating services.
Scholarship
During the December School Holidays of 2019-20, the Australia-Japan Society FNQ will again sponsor one or two students from a Cairns School, to live as Home-stay and study within a Japanese Junior High School for a 4 week period.
Year 9 / 10 / 11 students are encouraged to apply for the next scholarship and be in Japan during December 2020 and January 2021.
The AJS with this Scholarship are building further stronger relationships with the Cairns Sister Cities in both Oyama City and Minami Town.
>> view more
Sister Cities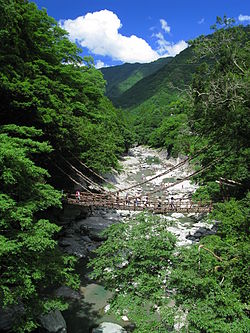 Minami, Japan (formerly Hiwasa) – since 1969
Reciprocal visits between students and the community continue, due largely to the contribution of the Australian Japan Society FNQ.
To mark the 45th anniversary of the agreement in 2014, the Mayor of Minami, Kageji Nobuyoshi, visited Cairns and attended the National Sister Cities Day celebrations.
>> view more
Oyama, Japan – since 2006
Surrounded by centuries-old rice fields and industrial mega-factories for some of Japan's biggest companies, Oyama is well known for its mix of traditional and contemporary lifestyles